The EEA Grants represent the contribution of Iceland, Liechtenstein and Norway to reducing economic and social disparities and to strengthening bilateral relations with 15 EU countries, among which is Greece.
The EEA Grants as a financial mechanism of the EEA have a continuous presence in Greece for the 25 years of their operation. The results and achievements of the previous funding periods of the Grants are a significant base for the EEA Grants period 2014-2021, in terms of objectives achievements, institutional framework, networking, communication and publicity.
For the period 2014-2021 the EEA and Norway Grants have allocated a total of 2.8 billion Euros, 116.7 million of which allocated to Greece, via Protocol 38c.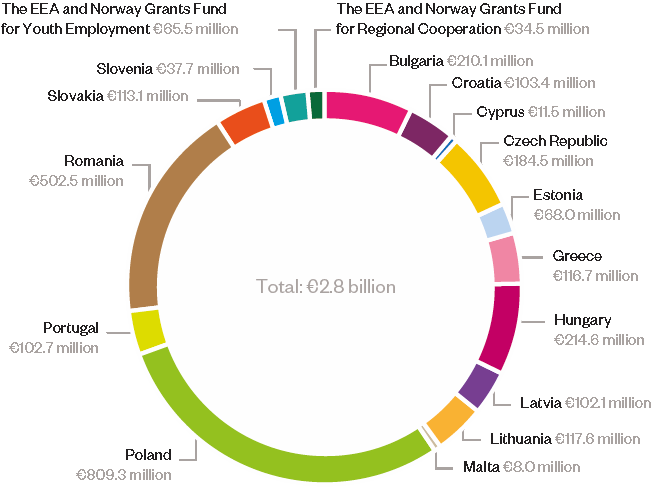 The Donor countries and Greece have signed the Memorandum of Understanding for the 2014-2021 EEA Grants on 31st October 2017, thus agreeing to nine (9) new programmes, further to formal negotiations between the Greek Authorities and the FMC and based on national needs and priorities in regard to the scope of these funds.
The programmes as provided in this MoU are in the thematic areas of:
Innovation, Business Development and SMEs

Roma inclusion and Empowerment

Local Development and Poverty Reduction

Water Management

Renewable Energy, Energy Efficiency

Good governance, Accountable Institutions, Transparency

Asylum and Migration (Capacity building of national asylum and migration management systems)

Asylum and Migration (Addressing urgent needs for the reception and screening of asylum seekers and for the accommodation of vulnerable groups)

Civil Society
Out of these programmes, five are managed by the Greek Authorities and four from FMO.
In the MoU there is also a provision for a Fund for Bilateral relations; this shall contribute to initiatives across sectors with the objective of strengthening the bilateral relations.
Finally, in accordance with the Joint Ministerial Decree 13249/4-2-2020 (Β΄ 526) for the Management and Control System at the national level which transposes the "Regulation on the implementation of the European Economic Area (EEA) Financial Mechanism 2014-2021", the National Focal Point (NFP) has the overall responsibility for ensuring that programmes contribute to the objectives of the EEA Financial Mechanism 2014-2021 as well as for ensuring that the implementation of the EEA Financial Mechanism 2014-2021 in the Beneficiary State is in line with Article 1.3 (Principles of implementation). The NFP also serves as a contact point and it is responsible and accountable for the implementation of the MoU.